Community Development
MF is involved in community development ministries like Educational Institutions, Counseling Centers, Child Welfare Centres and Philanthropy.
Educational Institutes
We have an English Medium Higher Secondary school & a Junior College in a small town called Kim in the state of Gujarat with more than 1000 students. The school is located in the 2 acre campus and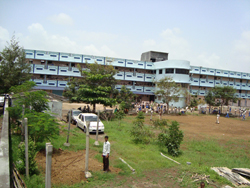 has a 3-storey building with more than 25 classrooms and other facilities. The school also has good science and computer labs and play ground. Preparations and prayers are on to make this into a residential school.
Child Welfare Centre
We have a Child Welfare Centre in Areth, Gujarat, which takes care of the food, accomodation and education of children from backward classes. We also look after their needs like clothing, medical aid and other requirements that will help them grow to become eminent leaders of the country. Currently, we have very minimal facilities in this centre and we are praying for building more facilities which would help us house more kids.
Feeding Programmes
We provide healthy food one time, free-of-charge, to over 430 children from backward classes in Areth, Gujarat and Jyoti Nagar, Kopar, 50 kilometres from Mumbai. The Prateeksha Bal Vikas Kendra in Areth and the Jeevan Jyoti Bal Vikas Kendra in Kopar take care of the wholistic growth of a child - including his social, educational and moral needs.
Counselling Centers
We have a counselling center in Delhi where people visit the counsellors sharing their problems and asking for seek suggestions. The counselors guide people based on the Word of God. Many of our Pastors are also involved in counseling believers and non-believers.
Philanthrophy
We provide help and assistance to the poor and needy for the education of the kids, the health care and meet up their marriage expenses. We also help in setting up self-employment units for the jobless and needy people.