Theological Training Centres
The Mahaneh-Dan Theological Training Center is co-located along with the Mahaneh-Dan Fellowship headquarters in a small town called Ulhasnagar about 35 miles from Mumbai. It was started in the year 1989 in a rented facility in Mumbai with five students. For about eight years, we continued on rented facilities with bare minimum facilities. But even under these circumstances, a good number of young men with a call for mission studied the Word of God and went on to pioneer the work of the Lord in different parts of India.
In 1997, God helped us move into our own facility in Ulhasnagar. We have about 3600 sq ft of place with a small dormitory, classroom, a small guest room, Kitchen, Dining room, office and a parsonage. We also have a local mission centre in the campus concentrating on the ministry around Ulhasnagar area.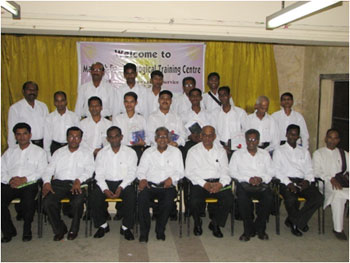 Till date, close to 350 students have graduated from 26 batches. Today, most of these students are working with Mahaneh-Dan fellowship as ministers looking after the mission centres they pioneered while some others are serving the Lord with other organizations. We are indebted to God for enabling us to serve God this way.
Short Term Intensive Training
For laymen
This is a three months programme to train laymen in spreading the love of Christ in the remote and interior parts of country. Since the local people are familiar with their own people and culture they are in a better position to work in these villages. We prefer to train them and sent them to their own villages for serving the Lord.
For Servants of God
This is a one week training programme, based on requirements, to equip the sevants of God who are already trained and in the field. It helps to motivate them to stand in the midst of persecution and trials.